Take full advantage of your Gigabit speeds and ensure that you are getting optimum performance by following our recommendations.
Connecting to the Internet directly with an ethernet cord from your device to the wall data port will always provide faster speeds, lower latency, and a more stable connection than any wireless options. We give you the steps on how to do it.
Wireless connections
Make sure you are connected to the SSID 'Spartan-Net' for the fastest wireless connection.
Depending on the age of your device, you may be connecting to a slower WiFi spectrum.
Recommended WiFi Routers
If you are purchasing your own WiFi router our favorite top of the line wireless router is the ASUS AC68U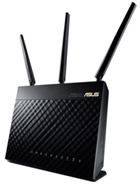 Your Computer
Increase your computer's performance to get the most from your Internet connection.

Rebooting your computer
Turn your computer off and back on periodically. Rebooting will close programs that run in the background.
Staying current
For best results, use the most current software. Newer software has updated features and added security. The best way to keep your PC current is to turn on automatic updates.
Windows PC: https://support.microsoft.com/en-us/help/12373/windows-update-faq
Apple: http://osxdaily.com/2014/11/01/automatic-install-os-x-updates-mac/

Free Up Space
Be sure you have at least 10% free space available on your hard drive.
Your Software
The software you use might cause your connection to seem slower.

Routine virus and spyware scans
Keep your computer free from infections and other malware.
McAfee Total Protection Software
https://www.mcafee.com/consumer/en-us/store/m0/catalog.html
VPN and Internet proxy servers
Virtual Private Network (VPN) connections to your office as well as connections to Internet proxy servers can decrease performance.
Clear your browser's cache
Periodically clearing your cache will improve your web browsers performance.
How to clear browser history, cookies, and cache:
Launch your Web browser.
Press Ctrl+Shift+Delete.
Select the items you'd like to clear from the browsing history menu.
Select the Delete or Clear button, depending on your browser type.
Close and re-start your browser.
Less open applications
Minimize the number of applications running simultaneously along with the number of tabs opened in your browser.
Peer-to-peer file sharing
File-sharing applications typically run in the background on your computer and use your Internet connection to upload and download files. Closing these applications on all the computers in your home may improve your performance.