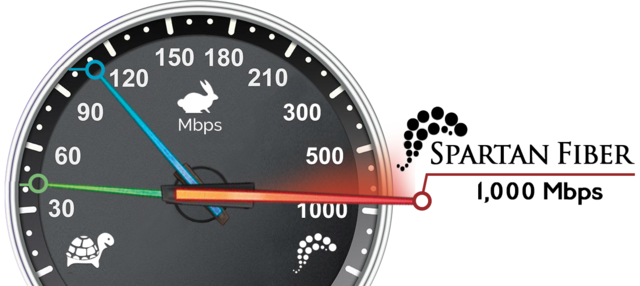 Spartan Net Celebrates 15 Years in Fiber internet Business
EAST LANSING, Mich. - Dec. 8, 2016 - Spartan Net, a leading internet service provider that delivers gigabit fiber internet to Michigan customers, is excited to celebrate 15 years of business. Since starting in 2001 in East Lansing, Michigan, Spartan Net has rapidly expanded to service over 15,000 residents in Lansing, and Grand Rapids. They were the first internet provider in the Midwest to deliver Gigabit fiber internet to the home, over three years before Google Fiber.
Chief operating officer of Spartan Net, Richard Laing said, "Our mission is to provide premium internet services using a purely fiber optic network that enhances the experience of our customers." Laing added, "Our continued success is due to the tremendous efforts of our team's commitment to delivering 'One Step Further' customer service." Spartan Net provides free in-home installation, 24/7 local same day service and never charges for service visits. This is in sharp contrast to the big cable companies who charge $50-$75 to come fix a problem.
Spartan Net has proven to have the fastest internet in Lansing and Grand Rapids. At 1,000 Mbps the company's gigabit fiber internet is upto 100 times faster than traditional cable or DSL internet and has no bandwidth limitations. That means faster downloads, less buffering and an ultra-reliable connection. You can download 25 songs in one second or your favorite 90-minute HD movie in less than 34 seconds.
The company primarily works with developers and owners of apartment communities offering turnkey services such as structured wiring, security cameras, door access, fiber internet, community WiFi and TV services.
Fast Facts:
• When considering where to live, renters rank high-speed internet higher than amenities like a pool or a gym.
• Recipient of numerous awards including the national DIRECTV dealer of the year.
• Over 35 employees on staff.
ABOUT SPARTAN NET
Spartan Net, founded in 2001, is the largest residential Fiber internet service provider in the state of Michigan servicing over 130 communities with Gigabit fiber internet. Spartan Fiber provides an unrestricted 1,000 megabits per second, pure fiber internet service to apartment, condominium and mixed-use developments. Spartan Net's turnkey solutions assist in solving the often-challenging problem of keeping communities on the cutting edge whilst delivering exceptional customer service and support to residents, owners and managers. Additional Spartan Net services consist of construction consulting, security, door entry and access, voice over IP and television services.
###
Media Contact:
Erika Greco, Spartan Net
517.679.6331
egreco@spartan-net.net